BleacherReport.com continues their series of team-by-team mock drafts, projecting the best-case, most realistic and worst-case scenarios for each team. As we move forward we'll combine these mocks in to three-team packages for easier consumption.

Take a look!
---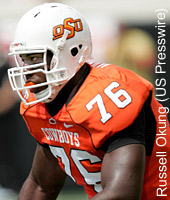 Washington Redskins

It has been a decade filled with highs and lows, sadness and hope, and anger and disbelief under Daniel Snyder's ownership.
Always the fan, Snyder has run the Redskins his way… and the foundation of the billion-dollar franchise was starting to crumble.
Now, in an effort to maintain the franchise's elite financial status, it appears Snyder has decided to allow football personnel to run and manage the team. He wisely hired salary cap guru Bruce Allen as the GM, and two-time Super Bowl champion Coach Mike Shanahan.
In need of a major overhaul, the Redskins can rebuild quickly with two strong football minds, a cap-less season, and the fourth pick in the 2010 NFL Draft.

Full Mock Draft
---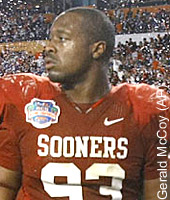 Detroit Lions

The Detroit Lions have plenty of needs heading into the offseason. Included among those are two positions most fans will bemoan spending any perceived early pick on… since the follies of the Matt Millen era are still fresh in their minds.
Fortunately for them, it appears as if the new leadership infrastructure is in place, and might just be a functional unit starting with GM Martin Mayhew and Coach Jim Schwartz.
Heading into the 2010 draft, Mayhew will try to build on last year's successful draft, which included a franchise quarterback, tight end Brandon Pettigrew, and two playmaking defensive cornerstones in Louis Delmas and DeAndre Levy.
His late-round selections also appear to be extremely insightful. And grabbing special teams assassin and Zack Follett in the last round may prove to be one of his better picks of the entire draft.

Full Mock Draft
---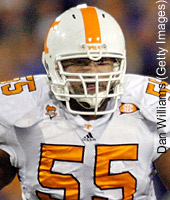 Houston Texans

The Houston Texans have historically been a good drafting team.
Consider 2006.
Most people probably remember the debate over Mario Williams, Reggie Bush, and Vince Young. But, what many don't remember, is that the same draft also produced Pro Bowlers DeMeco Ryans and Owen Daniels, as well as right guard Eric Winston and steady receiver David Anderson.
The Texans could easily go another ten years and never have another draft class as good as that one.
Then again… they might do better this year. That's what makes the draft so fun!
So let's take a look at some possibilities for each round and see who might be the best, worst, and most likely scenarios.

Full Mock Draft