Looking for safe draft picks? Check out these future stars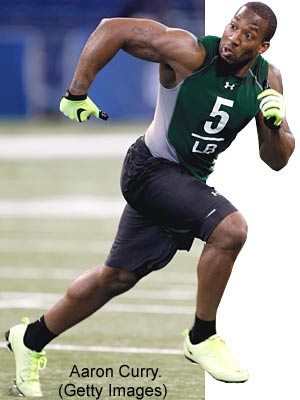 While the on-field activity between the pro day season and the NFL Draft crawls to a near standstill, the media and public interest in the prospects only intensifies.

With little workout news to report, rampant speculation regarding failed drug tests, poor practice habits and the inability to play different positions (or in different schemes) occupies too many headlines. It's enough to leave one with the impression that next week's draft lacks any talented, hard-working prospects at all.

Call me a hopeless optimist, but I believe the reality to be considerably less gloomy than some of my peers. Some of the boom-or-bust prospects in this draft will be, after all, booms.

There are no "sure things" in the inexact science of the NFL Draft. But those less willing to gamble on draft day will keep a close eye on the following eight players who were characterized to me as the "safest" by a menagerie of scouts and front office personnel.

Aaron Curry, OLB, Wake Forest: Though I've listed the safest players alphabetically, it is fitting that Curry tops the list. The Butkus Award winner is characterized by many, including NFLDraftScout.com, as this year's safest pick and the top-rated player overall. His statistics (332 tackles, 45.5 tackles for loss, three interceptions returned for scores) are eye-popping, and his performance at the combine, where he led all linebackers in four of the six categories he tested in, is a testament to his athleticism. In the words of one NFL general manager, Curry is also "off the charts" in terms of his intangibles. A team captain and four-year starter who signed with Wake Forest as a relatively unheralded prep talent, Curry has the work ethic and desire to be great.
(Rob Rang is a senior analyst at NFLDraftScout.com.)