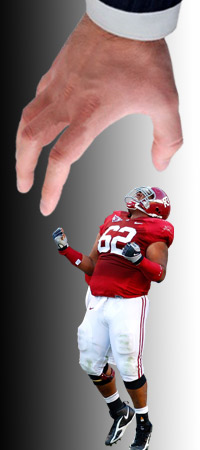 By Joe Brown, BleacherReport.com
20. Brandon Graham—Michigan (DE/6-2/268)
—
Round: Mid-1st
Graham was a terror in the Big Ten and gave a sneak peek to other conferences after his MVP-showing at the Senior Bowl. He would instantly upgrade a teams' ability, or lack thereof, to generate a consistent pass-rush.
Graham might be a bit undersized by NFL standards, but he's the epitome of explosiveness. With his gym-rat, high-motor characteristics, any NFL defensive coordinator will be thrilled to add a player of Graham's caliber.
---
19. Ryan Matthews — Fresno State (RB/6-0/220)
—
Round: 1st
After leading the nation in rushing last year, it was hard to imagine there was much more Matthews could do to improve his stock.
He did just that at the combine by showing off an incredible combination of strength and speed.
Perhaps the one knock was questions about his receiving skills but he proved at the combine his hands are not a reason to be concerned.
Matthews can run effectively between the tackles or bouncing it outside if need be. His toughness and work ethic can't be taught and in my opinion, he's the best pure running back in this draft—including C.J. Spiller.
---
18. Jahvid Best — California (RB/5-10/200)
—
Round: Late 1st – Early 2nd

If it wasn't for a scary injury last season, Best would be projected much higher than the late-second, early-third projections most mock drafts have him at.
Injury concerns prevent Best from being a surefire first-rounder but his explosiveness and receiving ability should be enough to overcome that.
---
17. Vladimir Ducasse — Massachusetts (OT/6-5/335)
—
Round: 2nd
Besides having one of the more intriguing side stories in this crop of prospects, the Haiti native might be one of the most versatile, too.
Size and strength of his magnitude are rare and the fact Ducasse didn't begin playing football until his junior year of high school makes him an interesting risk-reward selection in late April.
Ducasse can play multiple positions on the line immediately and he could provide depth at tackle, or start at guard while he gains another year of coaching.
---
16. Terrence Cody — Alabama (DT/6-4/350)
—
Round: 2nd
The former Mississippi Gulf Coast Community College transfer anchored Alabama's defensive line and prevented any opposing running back from gaining 100 yards in a game.
Cody's impact rarely shows up in the box score but he allows his teammates considerable room to roam the field and make plays. He's a perfect fit to plug the middle of the line for a 3-4 defense and his size alone is enough to demand at least two blockers on every play.
The biggest concern about him is conditioning, but his losing weight before the combine was an encouraging sign to his suitors.
---
15. Jonathan Dwyer — Georgia Tech (RB/5-11/230)
—
Round: 1st
Posting a 4.64 at the combine meant Dwyer could have potentially fallen out of the second, let alone first-round.
However, he rebounded by running a 4.51 at Georgia Tech's pro day. The 2008 ACC Player of the Year proved durability and consistency characteristics by rushing for 1,395 yards the last two seasons.
Dwyer is an extremely tough, in-between the tackles type of runner who simply shuns would-be arm tacklers and is a reliable blocker. He plays through injuries and has soft-enough hands to be an every-down running back.