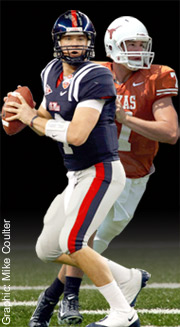 By David Nestoff, DraftSite.com
Sometimes, a college career goes exactly as planned. All fanfare and expectations are met, and the results speak for themselves. But as often as that happens there are those recruits who fall short. Sometimes it's a bad situation, filled with disagreements and laced with trouble. Sometimes the location is the issue, being a big city filled with too many opportunities to go the wrong way.
Sometimes, it's as good an idea to leave a school as it is to stay, regardless of the opportunities that were once there, or the size of the school.
Change can be the best thing, which is just the way it panned out for three formerly high-profile Division I quarterback prospects turned NFL-hopefuls for the 2010 Draft. There might have been less fanfare and no limelight, but for Jacksonville State's Ryan Perrilloux, Ole Miss's Jevan Snead and Arkansas Tech's Nick Graziano, change was the best thing, especially to boost their stock as NFL prospects.