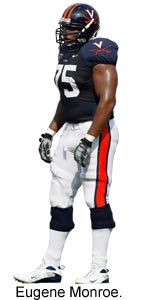 On Friday, April 24, NFLDraftScout.com senior analyst Rob Rang stopped by the Writer's Group for one more last-minute chat with the Community. The chat lasted a little over a hour, with Rob answering a variety of outstanding draft-related questions. Check out the full transcript below.


---
---
Rob Rang: Hello all, thanks for joining me for today's chat. I'm ready for your questions now!
---
funkyCanadian: Hi rob. What is the chance that the Packers will trade down in teh draft and pick up additional picks later on? They have multiple needs, i.e a NT, OL and CB and I feel these could be addressed best by an additional first round pick or early second round pick. If not, what is the latest buzz on who they take (Tyson jackson, B.J. Raji, Andre Smith if available)? Thanks,
Bill
Toronto Ontario
Rob Rang: Ted Thompson always looks to trade down and acquire extra picks -- and in this draft -- especially so. The Packers are focusing on big guys with their current pick, #9 overall, and would likely take Raji, if he were there. I believe he'll be off the board at that point and thus, the Packers will, instead, be looking at the tackles, likely Eugene Monroe or Michael Oher.
G33S3:
Rob. ... I've been following your Draft Analysis for years now. Your insight has been spot on, but I became a faithful follower during the 05 draft when you promised Seahawks fans that we'd love the Lofa pick. In the last 4 or 5 years, your accuracy in predicting picks has increased right before the draft (even predicting trades), so I'm begging for you to talk me off the ledge again.
---
Rob Rang: The hawks aren't rebuilding, we're not a 4-12 team. Please tell me that Sanchez is a smokescreen and Ruskell will be able to parlay that hype into 2 or 3 impact players. Are you hearing anything about the Skins, Jets, Broncos pulling a Ditka type move?

Thanks for the kind words. Just as in years before, I do not KNOW who the Seahawks are going to take and instead try to accurately project their thinking based on Tim Ruskell's historical tendencies. Those historical tendencies lead me to believe he'll take Aaron Curry with the fourth pick, rather than go for the quarterback Sanchez, receiver Crabtree, or one of the tackles -- though all remain legitimate possibilities.

Ruskell is actively looking to trade out of the pick and if they can get reasonable value, I believe they'll gladly move down.
---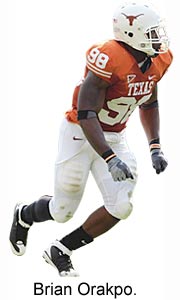 Avatar13:
What were the faults everyone saw in Ware and Merriman in 2005 and do the current cop of DE's/LB's have any of those same faults that may turn out to be non-issues?
Rob Rang: There was the concern with both Ware and Merriman that they'd be making the transition to outside linebacker after playing defensive end in college. For Ware, there was also the level of competition question, as he came from Troy.

In my opinion, there isn't an athlete in this draft with the combination of size and explosiveness that Ware and Merriman possess. The best of the bunch, I believe, is Orakpo, but his struggles with durability and stiffness, make him a lesser prospect than either Ware or Merriman, though he ultimately may be selected earlier than either Pro Bowler was...