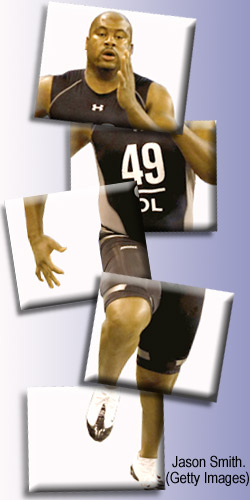 Starting with Baylor's talented Jason Smith, as many as five offensive tackles are expected to be taken in the first round, including four of the top 15 picks, according to ratings by NFLDraftScout.com.

Smith is a former tight end with great athletic ability and tremendous upside. On the other hand, Virginia's Eugene Monroe has been playing tackle since he first put on a high school uniform and will continue to do so next year with somebody's NFL uniform.

The center position adds a little more talent to the draft than usual with a pair of proven Pac-10 stars -- California's Alex Mack and Oregon's Max Unger, both of whom should be taken before the middle of the second round.

A mediocre group of guards is topped by Oklahoma's massive Duke Robinson, a road-grading-type blocker who should be especially helpful with some team's running game.

Here is a closer look at the offensive line prospects:

1. Jason Smith, Baylor, 6-5, 309

He is just coming into his own as an offensive lineman after converting from tight end to offensive tackle in 2006. NFL teams love his combination of athletic ability and hustle. Teammates nicknamed him Smooth for the way he moves. He has excellent speed and can pull, trap and track down a defender in space. Smith missed some time in 2007 with a knee injury but seemed fine in 2008 and finished his career with 39 starts in 42 games, playing 24 at left tackle, seven at right. According to coaching stats, he allowed only three quarterback pressures and 4.5 sacks in his 24 games at left tackle the past two years. At the combine, his best time in 40 yards was 5.09 and he had 33 reps with 225 pounds on the bench.
Frank Cooney is an analyst for NFLDraftScout.com.