By Chad Reuter , NFLDraftScout.com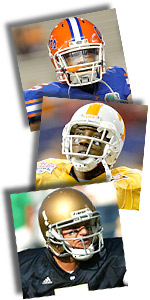 An average class of elite senior talent, and fears about future rookie contract limits, have pushed a huge number of juniors and redshirt sophomores into the 2010 NFL Draft mix.
Fifteen underclassmen went in the first round in 2009, tying the record shared with the 2004 draft. The 23 juniors and third-year sophomores picked in the top two rounds last April, however, set the league record.
Every underclassman deciding whether or not to come out early has a lot of variables to consider: from coaching situations to family considerations to where the NFL Advisory Committee says they might be selected.
Here's a list of top underclassmen who have announced their decision to forgo their remaining eligibility or return to school. Players who have declared they are headed to the NFL can still change their mind, as they have 72 hours after the January 15 deadline to withdraw their names.
Check out the list!