CBSSports.com wire reports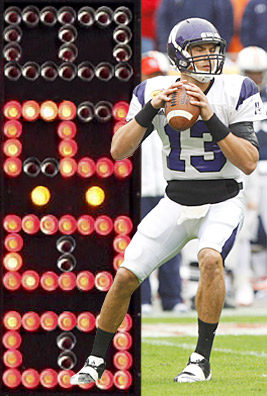 Mike Kafka was the only East team quarterback who didn't get to practice the 2-minute drill in front of NFL scouts before the East-West Shrine Game this week.
Instead, he showed the pros what he could do in live action.
The former Northwestern quarterback threw a 2-yard touchdown pass to Andrew Quarless with 6 seconds remaining, lifting the East to a 13-10 win over the West on Saturday in the annual showcase for college all-stars looking to make an impression on NFL scouts.
"At Northwestern, we were notorious for close games," Kafka said. "I felt like a spent my whole career playing games right down to the wire."
Kafka overcame a slow start to lead the 11-play, 55-yard drive on a day when his team's defense was dominant. He finished with 150 yards passing and was selected the Offensive most valuable player.
It was just as sweet for Quarless, who helped Penn State rally over LSU in the Capital One Bowl in the same stadium on Jan. 1, to have consecutive comeback wins. He slipped behind the defense and allowed Kafka to loft a pass over the middle so he could make the leaping catch.