Giants, Niners lead way with Seahawks, Bengals right behind
NFLDraftSite.com | NFLMocks.com
|
Prisco's Draft Grades
Grading a draft immediately after it concludes is akin to giving your compliments to the chef before the meal has been served. Sure, the food might sound good (or bad) based on the ingredients listed on the menu, but the true test won't come until after the product has been tested.
It will take at least three years before we can truly assess how the 32 NFL teams fared over the weekend. But what is readily apparent is the different approaches that were taken, from going for the best available talent to focusing on team needs to gambling on character concerns and long-term potential.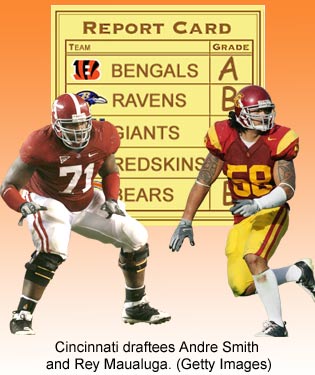 Cincinnati Bengals: A
While the Bengals might ultimately question their decision to ignore receiver and running back early, in terms of value and specific needs filled, no team is a bigger winner in this draft. To compete in the ultra-physical AFC North, the Bengals had to get tougher and certainly did so in this draft, adding the most physical offensive lineman in Andre Smith in the first round, the most physical inside linebacker in Rey Maualuga in the second and starting caliber talents at tight end (Chase Coffman), center (Jon Luigs) and punter (Kevin Huber) on the second day. Considering they waited until the third round to gamble on Michael Johnson -- who could end up being the best pass rusher from this draft -- the Bengals deserve lofty praise for this draft class. Only the character concerns of their top two picks lowers their grade from an A+ to an A.
Baltimore Ravens: B
The Ravens' 2009 draft class was far from flashy, but in selecting offensive tackle Michael Oher, a potential top 10 talent, with the 23rd pick, general manager Ozzie Newsome once again demonstrated his ability to capitalize on talented prospects slipping on draft day. Utah pass rusher Paul Kruger is a Jarrett Johnson clone. The Ravens got another falling talent in the fifth with the selection of Jason Phillips, who dropped to this point due only to a torn meniscus. While the Ravens might have become even more stout via the draft, they failed to address the need for speed and playmaking ability at receiver -- a decision that could hinder quarterback Joe Flacco's development.

New York Giants: A+
The Giants' 2009 class ranks right there with the Cincinnati Bengals' for the year's top draft. Hakeem Nicks and Ramses Barden give the club size and physicality at wide receiver to replace Plaxico Buress, and the Giants also successfully addressed concerns at offensive tackle with William Beatty and linebacker with Clint Sintim. With raw talent to work with in skill position players Rhett Bomar, Travis Beckum and Andre Brown in the middle rounds, it is hard to find a fault in the Giants' work this past weekend.
Washington Redskins: C
With only two picks within the first 157 overall, the Redskins didn't have much ammunition, so they were diligent in not squandering their opportunities. Brian Orakpo was more decorated than a wedding cake while with the Texas Longhorns and will provide an outside rush to go along with big free-agent addition Albert Haynesworth. Cornerback Kevin Barnes has the physical tools to be a starter early in his career. Seventh-round pick Marko Mitchell could surprise.

Chicago Bears: B
With the trade for franchise quarterback Jay Cutler, the Bears could have taken a pass on this entire draft and still earned a passing grade. As it stands, the Bears did a fine job, adding versatile defenders Jarron Gilbert, D.J. Moore and Marcus Freeman, among others. The Bears also added plenty of receivers to take advantage of Cutler's great arm. The decision not to fortify their offensive line and instead rely on Orlando Pace remaining healthy could be a gamble Chicago ultimately loses.
(Rob Rang is a senior analyst for NFLDraftScout.com)