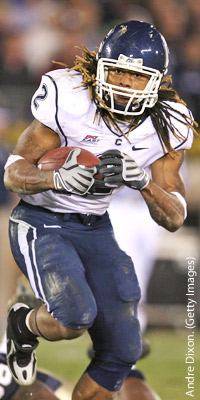 By Tim Rohan, DraftSite.com
The University of Connecticut may be developing into a legitimate place for NFL teams to look for talent. And the Huskies just might be the next running back-U if they keep their recent trends up.
Running back Andre Dixon is the most recent product of the run-hungry offense under coach Randy Esdall.
During Dixon's redshirt-sophomore season, he split carries with Donald Brown, and started eight games on his way to an 828-yard campaign, which led the team. Dixon also averaged five yards per carry that season and caught 24 passes for 280 yards. Yet he was only able to tally four touchdowns.
In Brown's senior season, Dixon only carried the ball nine times on the season, which was more than 150 carries less than the previous year. Donald Brown rushed for over 2,000 yards that season. When Brown graduated however, Dixon got his carries back, yet he had to split them once again.
In Connecticut's run dominated offense, Dixon showed that when he got the ball, he could be an effective runner. Dixon had 239 rushes for 1,093 yards and 14 touchdowns on the ground this season. He wasn't the only Huskie to top the 1,000 yard mark though. Sophomore running back Jordan Todman got nearly the same amount of carries as Dixon — and Todman led the team in yards and matched Dixon's 14 rushing scores.