Safest prospect Curry could fall on Draft Day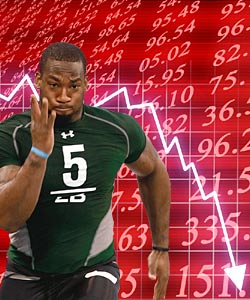 (NFLDraftScout.com is following Aaron Curry's road to the NFL from the combine to his pro day workout to the draft April 25-26. This is the third in a four-part series.)
Part 1: Afterthought | Part 2: Opportunity

Wake Forest linebacker Aaron Curry has already held private workouts on campus for the Kansas City Chiefs, Seattle Seahawks and Cleveland Browns, owners of the third, fourth and fifth overall picks, respectively. He has also traveled to Detroit and Cincinnati for visits and is flying from Cleveland to St. Louis to Kansas City this week.

Private workouts, Curry explained, are similar to the workouts he has done at the combine or at his pro day.

"Except teams will ask you to do things in different order or change the focus. Some teams want to see you drop back more often. Others more with the bags."

Similarly, the private visits have a tendency to run together.

"What has happened so far [on trips to Detroit and Cincinnati] is that you fly in to the city one evening and are picked up by the team at the airport and go to dinner with some of the front office people and coaches, including the position coach," Curry said.

"The next morning they take you to the team facility, where they give you a tour and introduce you to all of the coaches, the GM, the team owner, the public relations people. Then it is mainly spending time in the film room where the coaches watch film of your play throughout your career. The coaches give comments on your play -- both positive and negative. Next, they put on the film from their own season and after watching it for awhile together, they'll ask you questions about their defense. They expect that you'll be able to pick up on the system pretty quickly."
Rob Rang is a senior analyst for NFLDraftScout.com.